History & Awards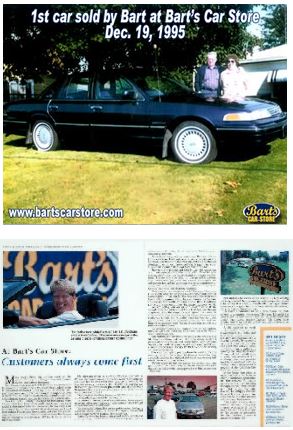 Many people dream big, but few people actually achieve their goals of being a successful business owner – and surpass those goals. Bart Churchward, president of Bart's Car Store, dreamed of being an entrepreneur since he was a kid. He set a deadline to be in business for himself by the age of 30. He achieved that goal three years late, but he has managed to surpass his own expectations, and those of others, by owning one of the most successful and trusted used-car dealership groups in the area.
He went to work for The Car Company in Warsaw, but he was never quite happy working for someone else. Bart had his own vision for a used car lot and took the leap into entrepreneurship on Dec. 18, 1995. He sketched out the beginnings of his business plan on the back of a Bob Evans Restaurant place mat, borrowed money from a bank and went into business for himself.
In the future, Bart plans to expand and grow the business, offering additional opportunities for staff members to become owner/partners, and bringing more quality, well-priced vehicles to the Indiana area. No matter how big the company becomes, however, Bart says the same standards that founded the company will continue to be foremost. Bart's Car Store provides a unique pre-owned vehicle buying experience to the customers in its present regional marketing area. One that focuses on customer satisfaction first. We understand that vehicle purchasing is a necessary, but sometimes-unpleasant experience. Our goal is to provide the customer with an enjoyable, honest service by satisfying the individual customers practical transportation needs with a quality product.

Bars Car Store

Driving Directions